Re-Link is a diversity and inclusion research based consultancy firm. We help organisations remove barriers to inclusion and build a culture to improve the daily lived experience of employees. 
Talent Process Toolkits | Talent Process Audits | DEI Benchmarks | Diagnostic Study | DEI Roadmap
Plug & Play Campaigns | Manager Guidebooks | Digitized Learning Interventions | Maternity Conversation Guidelines
Our Clients & Associations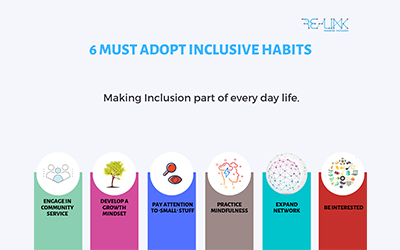 6 Must Adopt Inclusive Habits September 04, 2019 Inclusion is often seen as something that a leader demonstrates or an intervention to be spearheaded and
Read More »
Re-Link is India's leading Diversity and Inclusion (D&I) consulting firm which helps businesses build inclusive workplaces through groundbreaking solutions. Our innovative resources have been leveraged by many organisations to build inclusive talent processes, communication and foster an inclusive culture.